Digitalization of Heat Management in the Housing Industry
Vereinigte Leipziger Wohnungsgenossenschaft eG (VLW), Germany
Heat supply in the housing industry
Property management companies tackle many different and challenging tasks. One of them includes the intelligent management of the heat supply. This entails guaranteeing a reliable supply (e.g. troubleshooting, sufficient fuel supply) while also keeping an eye on the cost. Apart from expenditure, CO2 emissions are coming to the fore among property management companies, politics, the population and consequently the people who live in managed housing. Large companies often rely on an energy mix based on different sources, such as fossil fuels, solar thermal energy and environmentally friendly district heating.
As a result, a topic like heat supply, which may at first appear to be rather simple, can quickly become a complex task to handle.
Benefits brought about by digitalization
Digitalization can simplify some of the tasks and improve transparency, which can quickly reduce the strain on nerves and resources. Remote access over the Internet can considerably reduce the number of on-site visits. It also makes generating analyses as the basis for decision-making procedures from the office much easier. On top, the coordination of service jobs is considerably simplified. Vereinigte Leipziger Wohnungsgenossenschaft eG (VLW), made similar experiences with SAM DISTRICT ENERGY. The housing cooperative figured among the first users of the web portal in the Central German metropolitan area. VLW has been employing the full functionality of SAM DISTRICT ENERGY for two years, putting to use the compiled digital data to the benefit of its customers and to optimize its own processes.
Supply can be ensured by monitoring and predictive messages sent by the web portal. In addition, troubleshooting is conveniently simplified so that, in the ideal case, faults and malfunctions are rectified before inhabitants even realize they existed. Analyses of stations in terms of the behavior of DHW storage tanks, their control accuracy or their consumption in certain circumstances or weather conditions become much easier and quicker. Customized plant schemes were created in cooperation with VLW: they provide extra data thanks to the use of additional temperature sensors.
Digitalization makes it easy and quick to acquire data on important performance indicators for benchmarking. As a result, remote detection and analyses of outliers are possible early on.
Digitalization makes available all important heat supply data for optimized processes and lower cost. In the event of deviations, parameters can be adapted quickly and the behavior can be tracked.
Practical implementation
The SAM DISTRICT ENERGY web portal by SAMSON puts property management companies in a position to fulfill all their important tasks and requirements. The portal provides professional support in heat management by a number of optimized functions for heating and district heating controllers and heat meters.
How SAM DISTRICT ENERGY improves transparency
Custom alarm management for individual values and notification by e-mail, mobile text message or phone call
Benchmarking based on virtual devices (summary of several stations)
Visualized plant schemes with additional temperature sensors
Remote setting of time programs and adjustment of heating curves
Clear visualization of heat meters, heating circuits, DHW applications and district heating transfer stations
Easy, clear adaptations of gradient graphs and parameters
About VLW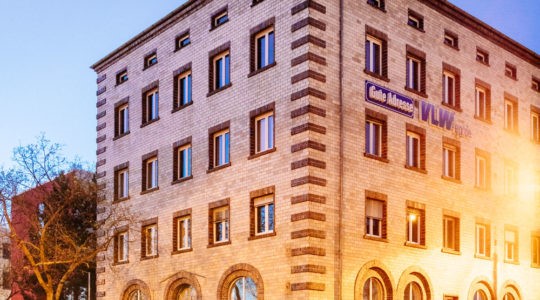 The housing cooperative was founded in Leipzig on 5 July 1922. Today, the cooperative is one of the biggest housing organizations in the region, with over 6,400 apartments and more than 7,500 members. It offers good living space at fair prices in 20 of Leipzig's sub-districts and the neighboring town of Schkeuditz. Cooperative housing ranges from heritage-protected apartments with plank flooring and stucco decorations to optimized-space flats in industrialized apartment blocks with functional floor plans. 30 staff members in two teams handle member interests and issues.