Norway
MATEK-SAMSON REGULERING A/S
Porsgrunnsvn. 4
3733 SKIEN
+47 35900870
+47 35900880
post@matek.no

About us
Matek-Samson Regulering AS
Established in 1989, the Norwegian subsidiary of SAMSON AG is recognized today as a reliable and responsive supplier of high quality products and services.
With a highly qualified team of engineers, field service technicians, stock of original spare parts and assembly facilities, we are able to provide prompt and responsive sales and technical advice. We can ensure quick delivery of complete control valves, accessories and spare parts to our Norwegian customers, wherever in the world they might be.
From Samson's vast product portfolio, We can help you select the most suitable product for your process in the required material quality. The right choice of valves ensures long life and the best control accuracy in the toughest environments.
After-sales service
Expertise
We have the knowledge and expertise of the full SAMSON product portfolio. Our services cover all stages of the life cycle of SAMSON control equipment. They include simple troubleshooting as well as comprehensive service agreements for entire projects. Our sales department offers sales solutions and translates solutions in custom-made offers. We assist you in selecting and configuring the right equipment to suit your control requirements.
Original parts
We provide the SAMSON equipment with new original parts and make it suitable for the next life cycle. Revisions are carried out on your premises or in our service workshop in Skien. For each order we will inform you in advance of the expected costs.
Engineering
At the request of our customers, our service engineers build together control valves, positioners and actuators. In addition, when a valve is converted, it is always tested for leak tightness.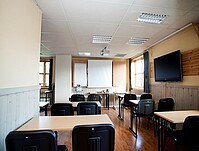 Technical training
As part of the SAMSON-group we can offer customized courses, seminars and training in close co-operation with our customers based on demand. We can also conduct a basic Valve Training Course in our local facility or at your site. We also bring in Product specialists from the SAMSON-group network of technical experts.
---
Back to list