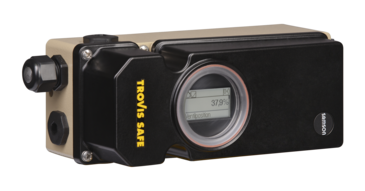 TROVIS SAFE 3793
Smart positioner with HART® communication

PRODUCT
Positioner
USAGE

Challenging transit times
Challenging ambient conditions
On/off service
ATTACHMENT TO

Linear actuator, single acting
Linear actuator, double acting
Rotary actuator, single acting
Rotary actuator, double acting
EXPLOSION PROTECTION

Without certification
Type of protection "Intrinsic safety"
COMMUNICATION

CONTROL LOOP

OPTIONAL SOLENOID VALVE

VALVE DIAGNOSTICS

Special features
Smart positioner with HART® communication
SAM DIGITAL READY
High air capacity
Integrated EXPERTplus diagnostics with partial stroke testing for valves in safety-instrumented systems
Modular design: simple to install or exchange pneumatic or option modules
Simple attachment to all common linear and rotary actuators: SAMSON direct attachment, NAMUR rib, to valves with rod-type yokes according to IEC 60534-6-1, according to VDI/VDE 3847, to rotary actuators according to VDI/VDE 3845
Non-contact position sensing
Plain-text display with NAMUR Recommendation NE&nbsp
107 states and messages on the device
Integrated diagnostic functions
Simple one-knob, menu-driven operation
Easy-to-read display in any mounting position thanks to rotatable reading direction
Configurable with a computer over the SSP interface using the TROVIS-VIEW software
Variable automatic start-up thanks to four different initialization modes
All parameters saved in non-volatile EEPROM
Two-wire system with small electrical load 495 Ω
Adjustable tight-closing function
Automatic zero monitoring
Integrated temperature sensor and operating hours counter
Self-diagnostics
Messages as condensed state conforming to NAMUR Recommendation NE 107
Integrated EXPERTplus diagnostics for control valves
Pressure sensors to monitor the supply pressure and signal pressure
Air capacity adjustable by software
Accessories
Options
Pneumatic modules
Analog position transmitter
Software limit contacts
Binary output
Binary input
Forced venting
Inductive limit contacts
Mechanical limit contacts
Pressure sensors
Information
Support
R 0007

Hinweise zur sicheren Verwendung von Druckausgleichselementen (Membranen in Gehäusen) als Teil von Manometern gemäß REACH-Verordnung 1907/2006 und verwandten Anforderungen
[DE]
Certificates
Only up-to-date documents are shown in the product selector. Check the documentation site for a list of all documents available.
Show all documents for Type TROVIS SAFE 3793
Pin product
Pin items on your list and contact us if you have any product-related questions.