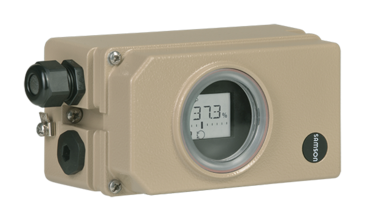 TROVIS 3730-1
Electropneumatic positioner

PRODUCT
Positioner
USAGE

Challenging transit times
Challenging ambient conditions
Throttling service
ATTACHMENT TO

Linear actuator, single acting
Linear actuator, double acting
Rotary actuator, single acting
Rotary actuator, double acting
EXPLOSION PROTECTION

Without certification
Type of protection "Intrinsic safety"
COMMUNICATION

CONTROL LOOP

OPTIONAL SOLENOID VALVE

VALVE DIAGNOSTICS

Special features
Electropneumatic positioner
Die-cast aluminum or stainless steel housing
Attachment to linear actuators according to IEC 60534-6, VDI/VDE 3847, or SAMSON integral attachment
Attachment to rotary actuators according to VDI/VDE 3845
Attachment to double-acting actuators with Type 3710 Reversing Amplifier
Any positioner mounting position possible
Non-contact position sensing
LCD easy to read in any mounting position thanks to selectable reading direction
Simple one-knob, menu-driven operation
Configurable with a computer over the SSP interface using the TROVIS-VIEW software
Variable, automatic start-up
All parameters saved in non-volatile EEPROM
Two-wire system with a small electrical load of 315 Ω
Tight-closing function can be activated
Continuous zero monitoring
Accessories
Options
Additional equipment: software limit contacts, inductive limit contact, analog position transmitter
Information
Support
R 0007

Hinweise zur sicheren Verwendung von Druckausgleichselementen (Membranen in Gehäusen) als Teil von Manometern gemäß REACH-Verordnung 1907/2006 und verwandten Anforderungen
[DE]
Certificates
Only up-to-date documents are shown in the product selector. Check the documentation site for a list of all documents available.
Show all documents for Type TROVIS 3730-1
Pin product
Pin items on your list and contact us if you have any product-related questions.